Skip to Content
Dealing With Whiplash
Woodlands Health & Performance is a comprehensive chiropractic and physical therapy center located in St. Cloud, MN. Under the expert care of Dr. Michael Balfanz and his professional team, Woodlands Health & Performance is fully equipped to help alleviate the symptoms of whiplash and provide you with the proper treatment for the best results possible.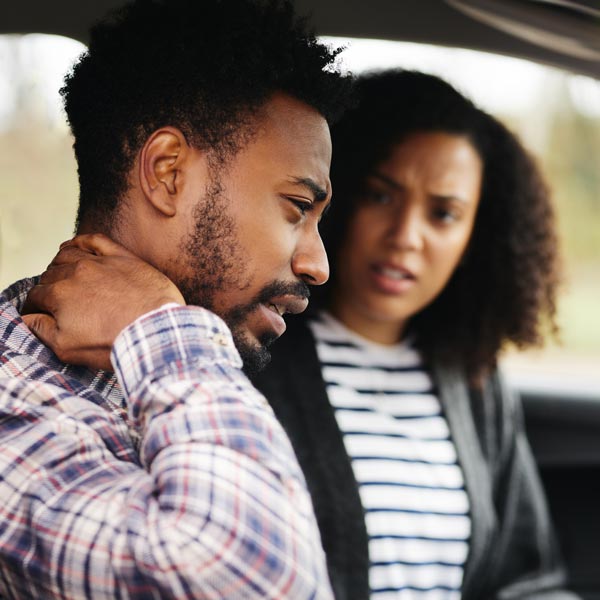 What Is Whiplash?
Whiplash describes pain caused by injuries to the soft tissues in the neck. Whiplash is actually not a medical term, but is commonly used to describe cervical acceleration-deceleration (CAD). Generally, the injury occurs in ligaments, tendons, and muscles. Commonly caused by automobile accidents, it is often result of accidental falls and sports activities as well. Even chronic stress or strain, such as using the neck to hold a phone, can cause whiplash. The severity of whiplash can vary; however most recover without chronic pain in two to three weeks.
How Do I Know if I Have Whiplash?
Common symptoms of whiplash appear within 24 hours of the injury. Typically, women are more at risk than men, but whiplash can happen to anyone regardless of age. If you are experiencing whiplash, you may feel:
Headaches
Feeling dizzy or have blurred vision
Body weakness and tiredness
You may also have trouble concentrating and experience issues with memory. Some will notice a slight ringing in the ears or general irritability. It is important that if you are experiencing pain that has spread to the shoulders and arms, or if you feel tingling or numbness in your arms, you seek professional help immediately.
How Is Whiplash Treated?
There are many different options that can help relieve the symptoms of whiplash as quickly as possible. Patient education is stressed and often movement is emphasized with the use of an exercise or stretching plan. Ice and heat may be used to control any muscle spasms. Spinal manipulation has been shown to be the single most effective treatment available. In some cases, physical therapy and massage can also be beneficial. Your expert team at Woodlands Health & Performance can examine your symptoms to create a customized treatment plan that best manages your whiplash injury.
While rare, severe cases of whiplash may require medical care, as an addition to your treatment plan. Typically this will include anti-inflammatory medications, muscle relaxants, trigger point injections and, epidural spinal injections. It's important to note that these methods should only be used for short-term pain relief. While they may increase comfort, they cannot restore normal function which only proper chiropractic care will do.
Why Woodlands Health & Performance?
Woodlands Health & Performance provides the most comprehensive treatment options available in the St. Cloud, MN, area. Our team of experts is dedicated improving your quality of life and relieving you of the pain and loss of movement cause by a whiplash injury. We offer a diverse group of healthcare experts in the areas of physiotherapy and rehabilitative medicine, and provide multiple options for our patients including chiropractic care, physical therapy, electro-dermal screenings, massage, and more.
If you are suffering from the symptoms of whiplash, or if you would like to simply improve your health through mobility, contact us at: 320-240-0300, or use our contact page to schedule a personal consultation. Your health is important to us; we look forward to serving you.
Schedule Your Appointment Today