Skip to Content
Are You Experiencing Neck Pain in St. Cloud, MN? Contact Woodlands Health & Performance for Help!
What Is Neck Pain?
Most episodes of neck pain occur because of muscle strain or other soft tissue sprain. Neck pain could also be the result of a traumatic event like whiplash. Generally neck pain clears up on its own, but if neck pain is continuous, accompanied by numbness or arm pain, you should see a medical professional. Neck pain that develops gradually and after specific neck positions and activities is also common.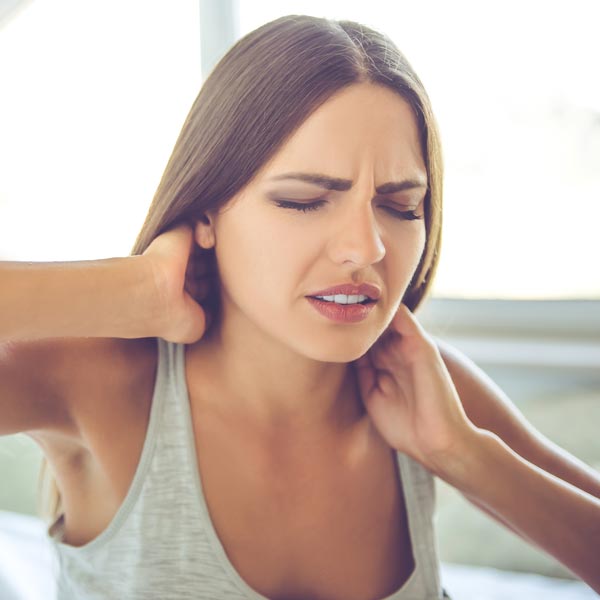 Types of Neck Pain
Neck Strain
Neck strain is not a serious injury, however the pain and dysfunction it causes can be serious. Neck strain can be the result of too much time in awkward positions, or sleeping in an uncomfortable position. Other causes could be carrying a heavy object to one side or a traumatic event to the neck like whiplash.
Stiff Neck
Stiff neck is characterized by soreness in the neck and difficulty moving the neck. It can also be accompanied by headache, or shoulder and arm pain. Stiff neck can be caused by muscle strain or sprain, meningitis/infection, or cervical spine disorder.
Treatment for Neck Pain
Woodlands Health & Performance practices the latest treatments in neck pain in St. Cloud, MN. Our physical therapists can help you combat neck pain through a series of neck pain exercises designed specifically for you. Generally, a neck exercise plan consists of a combination of aerobic conditioning, strengthening, and stretching exercises, and possibly trigger point exercises.
Benefits of Neck Exercises
Our physical therapists will create an exercise plan that will incorporate a combination of the following exercises. We utilize a mixture of both modern and traditional physical therapy techniques to bring our patients relief from neck pain.
Neck Stretches
Stretching exercises can extend or preserve elasticity in affected joints and the neck's range of motion. Neck stretching should be done every day, and some stretches should be done several times a day.
Neck Strengthening
These exercises are generally done every other day. They are designed to stop or decrease flare ups from pain.
Aerobic Conditioning
These exercises increase blood flow to the soft tissue and muscles of the neck which increases the range of motion. Also after 30 to 40 minutes of aerobic exercise, endorphins are released that are natural painkillers that reduce neck pain.
What Are the Goals of Physical Therapy for Neck Pain?
If you're suffering from frequent neck pain, consider scheduling physical therapy. Woodlands Health & Performance serves clients in the St. Cloud and Sauk Rapids, MN area.
Unsure if physical therapy is right for you? The goals of physical therapy for neck pain include:
Increasing neck flexibility
Decreasing neck pain & stiffness
Strengthening your neck muscles
Preventing future neck pain
If you need a neck pain chiropractor or physical therapist in Sauk Rapids or St. Cloud, MN, look no further than our health care clinic. Our skilled team will develop a plan for you based on your current pain level and range of motion.
Call 320-240-0300 to speak to a neck pain chiropractor today.
The Woodlands Health & Performance Difference
Woodlands Health & Performance is a comprehensive healthcare clinic that provides some of the most effective treatment for neck pain in St Cloud, MN, and the surrounding Midwest. Our team is comprised of a diverse group of healthcare experts in the areas of physiotherapy and rehabilitative medicine. We provide multiple options for our patients such as chiropractic care, physical therapy, electro-dermal screenings, massage, and more. Your health is important-especially your ability to move without pain.
If you are suffering from neck pain in St. Cloud, MN, or the greater Midwest, and want to explore physical therapy techniques, or simply improve your health through mobility contact us at: 320-240-0300 to schedule a consultation with one of our physical therapists.
Schedule Your Appointment Today