Skip to Content
Could You Have a Pinched Nerve in St. Cloud, MN?
Woodlands Health & Performance is a comprehensive chiropractic and physical therapy center located in St. Cloud, MN. Under the expert care of Dr. Michael Balfanz and his professional team, Woodlands Health & Performance is fully equipped to help alleviate the symptoms of a pinched nerve in the neck, and provide you with the proper treatment for the best recovery possible.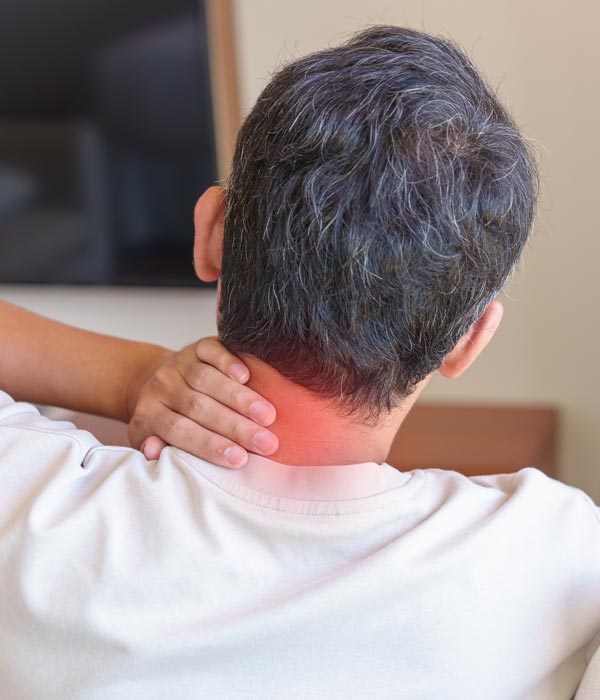 What Is a Pinched Nerve in the Neck?
The cervical region of the spine consists of seven vertebrae that begins at the base of the skull and continues down the neck and upper back. Also in this region of the spine are eight pairs of nerve roots. When something causes a one of those nerve roots to be damaged or injured by compression, you have what is referred to as a pinched nerve in the neck. Nearly everyone will be affected by a pinched nerve in their neck at some point in their lifetime. It is a very common problem that can vary significantly in pain intensity and underlying cause making it important to visit an experienced chiropractor when experiencing the symptoms of a pinched nerve in the neck. The symptoms are helpful in determining which vertebrae the injury is near and what the best treatment will be. Symptoms may include shoulder pain, muscle weakness, pain or numbness down the arm, pain or numbness in the fingers, and reduced reflexes. The causes of pinched nerves in the neck are different in each case. There are risk factors that can increase the chances of nerve injury which include obesity, age, degenerative disc disease, bulging discs, herniated discs, spinal arthritis, bone spurs and several other issues. It can also occur from repetitive motion, or holding your head in one position for long periods of time. In fact, anything that can increase pressure near a nerve can increase the risk of compression.
What Does the Treatment Involve?
If a pinched nerve is treated soon after the injury, it is likely to heal with rest, manual manipulation, and the use of mild anti-inflammatory medication. Nerves that are not treated soon can cause serious or permanent damage. Treatment begins with the experience and extensive training of Woodland Health & Performance's professional staff. They will ask questions to assess if a pinched nerve is the cause of your discomfort, where the nerve is pinched in the cervical region, and what the treatment will entail.
If your symptoms are a pinched nerve in the neck, testing may be completed to find the root cause. This is important because it could possibly be the result of a serious spinal injury. Surgery can be done if necessary however this is very rare. Do not delay if you find yourself struggling with any of the symptoms described. Consulting with an expert right away can greatly reduce the length of time you are in pain or lose range of motion.
How Can Woodlands Health & Performance Help?
If you are experiencing any of the above symptoms, you may be suffering from a pinched nerve in the neck. It is important that you do not wait, expecting the injury to heal itself. Because the severity of a pinched nerve in the neck can vary greatly, consulting with an expert right away is the best way to experience the quickest recovery possible.
Woodlands Health & Performance is a comprehensive healthcare clinic. Our experience and knowledge coupled with our caring approach results in a superb experience with exceptional results. Contact us at: 320-240-0300 to schedule a consultation with us, or send us a message via our online form. Don't let a pinched nerve in your neck affect your quality of life, contact Woodlands Health & Performance today!
Schedule Your Appointment Today